Each of my days begins quite similarly: slow. I'm not sure if it's the European lifestyle rubbing off on me, but I have dedicated extra time into each of my mornings to enjoy this new, slower lifestyle. Now that the semester is winding down and I'm headed back to the states so shortly, this routine is more of something I had in the past couple of months. **This post uses the 24 clock or military time because that's what we use in Europe**
Rise & Shine
Depending if it's a class day or a day off, I try to wake up around the same time every day. This doesn't always happen due to my rather inconsistent bedtimes. My alarms go off anywhere from 07:25-08:30. If it's a class day or I went to bed early, I am usually up and sipping my coffee at the table around 08:30. If I wake up later, 08:30 is my first alarm and I'm not out of bed until around 09:00 or 09:30. My goal is to wake up and not lay in bed on my phone which I sometimes do by lacing up for an early run.
COFFEE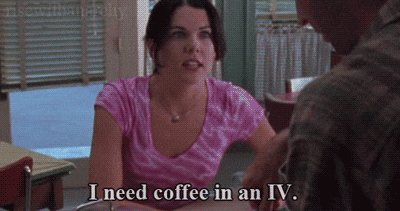 This is an essential part of my mornings. I'm talking Lorelai Gilmore, "I need coffee in an IV," essential part to my morning. Since moving to Italy for the semester, I have ditched my drip coffee ways for the only option in my apartment: espresso by Moka (or a percolator). Unfortunately, I can't just drop my American coffee-drinking ways, so I either make a cappuccino or an americano to sip while I scroll through social media and news apps or while (like this morning) writing.
Mid-Morning & Early Afternoon
If it's a class day I spend much of my day in the classroom or bouncing from one part of the city to the next to make it to class. On Tuesdays, I like to go with my roommate to our school restaurant for lunch before my second class of the day. The rest of the week or the weekend I spend this time walking around Florence, trying to find new places to get caffè and do homework all while enjoying my other favorite places. Lunch is usually thrown in somewhere around 13:00.
Afternoon & Evening
At the beginning of the semester, if I didn't go for a run in the morning, I would go for a run after my classes, during the golden hour. I loved hitting the city streets while the golden sun gracefully fell down each building or reflected off of the Arno river. Although I still love this time of day, it is much harder for me to see it because I don't get home from class until around 18:00. For the days I don't have afternoon classes, I usually end my walks during the golden hour. Other times, I find myself doing much of my homework at my apartment or, more times than I'd like to admit, scrolling through my phone.
Evening
Most of my evenings are spent hanging out with my roommates in the kitchen. Everyone has different stuff going on each day (and even some nights), but during the evening is when we find ourselves spending the most time together. This is also when we find ourselves cooking dinner, exchanging parts of our daily happenings, and whatever else roommates talk about.
Night
Not long after eating dinner, I find my way to my bed where I spend too much time on my phone or laptop. Sometimes I'll surf the web for more things to do in Florence while others I watch Netflix or scroll through social media. Due to my earlier mornings, I find myself falling asleep anywhere from 22:00-23:30. Even that seems late on my earliest of mornings. Lately, due to my lack of motivation and anxieties for returning to the United States, I don't find myself sleeping until after around 01:00.
It varies day to day, but for the most part, I find myself in a similar schedule. Despite the exciting city environment, my daily life doesn't differ too much from my school life at home. Okay, you got me; I do way more exploring here. . .
Leave a comment below if you liked this post or if you want to see more like it.
Ciao,
Krystal, With a "K"